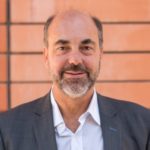 Alain KERGOAT
DIRECTEUR GÉNÉRAL
A digital industry graduate, Alain KERGOAT has held marketing, strategy and innovation management positions in major international ICT groups (notably HP and Toshiba). He discovered the smart building and smart cities sector in 2011 when he contributed to one of the first major smart city projects in France (Lyon Smart Community Project). In 2014 he joined the SBA (Smart Buildings Alliance for Smart Cities), participated in its development and became its Chief Program Officer. Alain KERGOAT has played a key role in the creation of Ready2Services (R2S) reference framework.
In 2016, Alain KERGOAT co-founded URBAN PRACTICES to support public and private project owners in the development and implementation of their smart building / smart city projects. At URBAN PRACTICES, he is involved on large corporate building and urban renewal projects, on strategy framing, R2S audits, information system architecture, change and project management activities.
Alain KERGOAT is Accredited Professional on R2S, Wiredscore and Smartscore Smart Building labels.