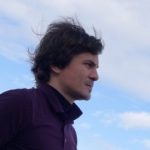 Eric CASSAR
ARCHITECTE URBANISTE
Architect-engineer, Eric CASSAR is the founder of ARKHENSPACES, created in 2005 in Paris, an architecture, urbanism and design office oriented towards the research, conception and construction of new and sustainable contemporary spaces. He is particularly interested in the relationship between physical and digital architecture through the design of connected environments.
In 2010 he received the Pierre Cardin Prize awarded by the Academy of Fine Arts in Architecture, which recognizes and rewards his work.
In 2013, he made a conference tour in Taiwan, then was invited by the Museum of Fine Arts in Kaohsiung. He presents Interstice spaces, a heterotopia in the heart of the city. The same year, he completed "Pour une ar(t)chitecture subtile" a theoretical essay that defines a prospective approach to architecture based, among other things, around the concept of nspaces (connected environments).
In 2015, he was invited to speak on the theme of serendipity at a TEDx conference in Lyon, where he presented his vision of the city of tomorrow (smart-city) where fauna, flora, material and immaterial aesthetics are combined.
In 2017, he received the European Grand Prize for Innovation "Le Monde – Smart-cities" for Habiter l'infini a new concept of habitat in the digital age.