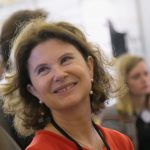 Valentine de LAJARTE
PLATEFORME D'APPEL À PROJETS URBAINS INNOVANTS
"Sustainable cities, mobility, urban agriculture, smart lighting, connected habitats, it is no longer a question of convincing on the emergence of innovations, but of mobilizing the actors concerned, and of associating users in the process of integrating the Smart City"
Valentine de Lajarte, with 15 years of experience in real estate financing in specialized banks (including Groupe Crédit Foncier), created Acofine in 2003, a financial strategy consultant for professionals in the sector. Thanks to her expertise in project financing, she participates in large-scale operations, and develops innovative uses for exemplary neighborhoods.
In 2016, Valentine de LAJARTE created "Partager la Ville", a platform that brings together and federates the actors involved in the deployment of innovations and technologies, starting from the needs and precise specifications in a city or territory.
Sharing the City is Urban Practices' partner for the search for start-ups and the animation of innovation calls for projects.